The secret history of western technology and culture.
THE FLUXUS INDIAN MUSEUM
Coon Rapids, Iowa

To explore the museum, please click on any of the images below...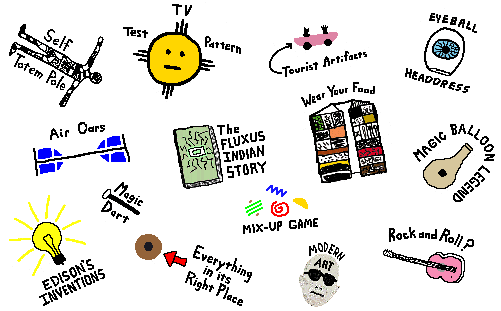 ---
Click on the image above to take the PUSH TV QUICK GUIDED TOUR
of The Fluxus Indian Museum. Tour lasts approximately 160 seconds.
---
---
Note: The "Fluxus Indians" are NOT an American Indian group.
To learn more about the REAL American Natives who lived in Iowa, please visit Iowa Indian Tribes.
---
© 2006 Allen Bukoff & FLUXUS Midwest

---
---
The Fluxus Indian Museum website was launched on 21 December 1995 and has been delighting and entertaining internet visitors and Fluxus enthusiasts from all over the world for more than 10 years. This was the first website created by Allen Bukoff and FLUXUS Midwest. It received a number of major awards and recognitions during the early days of the world wide web, including: